EX-DEMONSTRATION Angel 7500 Twin Gear Juicer with Intelligent Auto Reverse
EX-DEMONSTRATION Angel 7500 Twin Gear Juicer with Intelligent Auto Reverse
Product Description
**THIS IS A CATEGORY 1 EX-DEMONSTRATION MODEL THAT HAS BEEN USED FOR TRADE SHOW DEMONSTRATIONS. IT COMES WITH A FULL WARRANTY AS WITH OUR BRAND NEW JUICERS.
**Please Note: This product does NOT come with any free gifts**
The Angel 7500 Juicer features the automatic reverse safety function, this feature is only available on the Angel 7500 and 8500s models, please see the product video that follows which details how this feature operates. The Angel Juicer 7500 automatically senses the additional pressure build-up and reverses out automatically to prevent blockages. This stops too much pressure building up inside the machine which could possibly damage the juicing screen.
Angel Juicers are regarded as the Rolls Royce of Juicers. In our 10+ years of selling juicers here at Juicers.co.uk we have yet to find a juicer that performs as well as the Angel Juicer in terms of extracting the highest possible juice yield and driest possible pulp. No other Juicer we've tested can extract as much Juice as the Angel from common produce like apples, carrots, wheatgrass and celery, the pulp comes out unbelievably dry compared to other juicers.

The Angel 7500 and all parts are made completely of stainless steel SUS-304 and the large twin gears have anti-bacterial properties adding to its unique hygienic construction.
If you are looking for the best juicer money can buy then look no further than the Angel. The extra 15-30% yield you get with the Angel versus any other juicer on the market will justify the extra cost over a 2-3 year period with the amount you will save on buying produce. The Angel is also a stunning design piece and will be a focal point of any kitchen.
Finally, and foremost, we are the official distributors of the Angel juicers in the UK and all our models come with a UK plug and are dispatched from our warehouse based in the UK so you can be rest assured that you a re purchasing from a very reliable and reputable company.
Angel Juicer 7500 Highlights
Fully stainless steel with antibacterial stainless steel gears
Removes 95% of pesticides and agrochemicals on the surface of non-organic Fruit and Vegetables by binding to the waste fibre (due to the design of the 2 large spinning stainless steel gear gears
The only juicer capable of efficiently extracting nutrients locked inside cellulose fibres so you get the maximum levels of enzymes and nutrients from deep within the fibres
Easy to assemble, use and clean (Only 4 juicing parts)
Six outstanding operational safety features
Extracts up to 2 times more juice & 3 times more nutrients than some other twin gear machines
3HP Motor grinding force with the gears spinning at a speed of only 86RPM
Intelligent Auto Reverse - automatically senses the additional pressure build-up and reverses out automatically to prevent blockages
Super quiet when running
Highest quality design and construction
Makes delicious soy milk
Grinds soybeans, beans, grains, coffee beans and makes nut butters (optional nut butter screen required)
Angel Juicer has won 3 international awards and has been recognised as the Number 1 twin gear / cold press juicer in the world
Product Video
Technical Specification
Juices Wheatgrass? Yes, the best we have ever used!
Dishwasher safe? Yes
All stainless steel construction
RPM: 86
3 HP Grinding Force Motor
Dimensions (l x w x h) 540 x 260 x 360 mm
Weight (Unboxed) 9.5kg
Feeding Chamber 43mm
Parts Warranty 3 years (Domestic use only)
Motor Warranty 5 years (Domestic use only)
Colour: Stainless Steel
* Please note the colour of the sticker may vary, however, this is the latest Angel 7500 model. This juicer does not come with the Screen Cleaning Knife
Angel Juicer 7500 Parts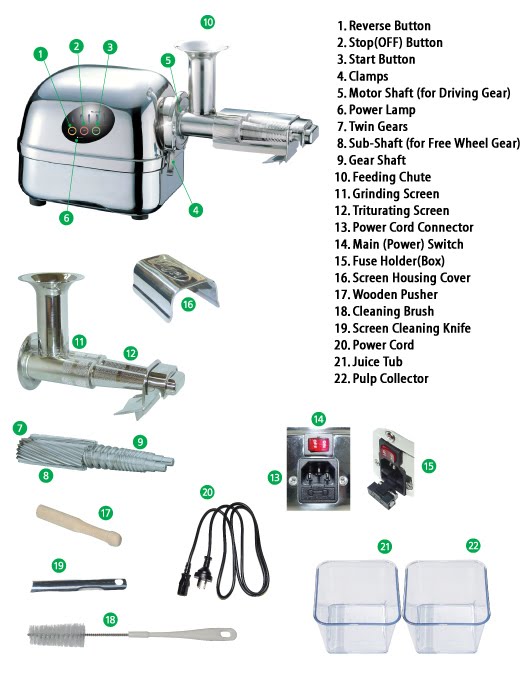 Product Reviews
This product hasn't received any reviews yet. Be the first to review this product!
Other Details
Root Veg/Hard Fruit Rating:
5