Z Star 710 Manual Juicer
Product Description
Z-Star Z-710 Manual Juicer
Do you want a juicer which is versatile, lightweight, goes where you do and needs no electricity, then look no further than the Z-Star Z-710 Manual Juicer.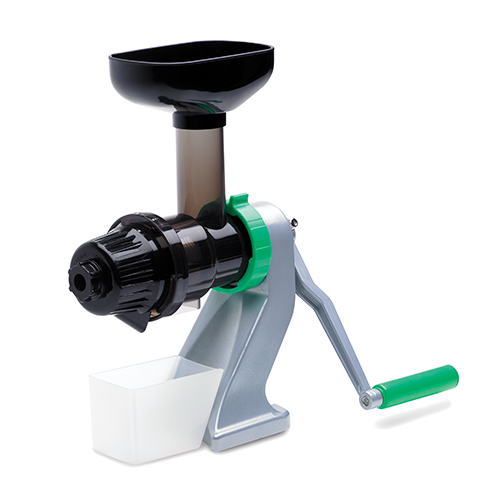 Now you can produce wheatgrass juice
Wheatgrass has always been tricky to produce but now Tribest have produced an affordable Juicer in the Z-710 which can juice wheatgrass and many other fruits and vegetables too, at home or wherever you want to go. Many other manual style wheatgrass juicers don't produce other juices but this model is very versatile and flexible for juice production.
Wheatgrass in particular contains amongst the highest levels of minerals, nutrients and vitamins available when you compare with a wide range of vegetables and fruits.
Wheatgrass provides an unusually high level source of chlorophyll as well as literally hundreds of other nutrients and enzymes. The juice from wheatgrass typically contains around 70% Chlorophyll. This has many health benefits including natural body cleansing, body toxin neutraliser and body rebuilder.
The single auger design both gently and efficiently extracts every last drop of juice from your wheatgrass – absolutely without the need for electricity.
Until very recently to have wheatgrass juice would have required using a very expensive juicer or taking a trip to a local juice bar – but not anymore! The Z-Star is also ideal for producing juice from many vegetables, fruits and leafy greens too.
Other Z Star Z-710 functionality
Owners will be delighted to hear that the special blank screen allows for the production of nut butters, ice cream / sorbet which can be hand cranked from the machine

The Z-Star Manual Juicer is designed to be taken wherever you go. It is versatile, very lightweight and portable

This Z-Star features the new style 8x harder Ultem auger (when compared to the previous model)

The Z-710 features a dual stage juicing screen. This increased surface area extracts ore juice than competitive models
Z-Star Manual Juicer highlights
An ideal companion for travelling, camping, hiking, etc. as no electricity is needed

Includes both a plunger and funnel

The juicing screen and auger are made of Ultem, which is 8x harder than usual materials used

Dual Stage Juicing Screen

The Aluminium Frame is painted

The Plastic Housing is clear

Easy to disassemble and clean

Will never rust

BPA (Bisphenol A) free

Operation is manual, no Electricity is needed

Provided with a one year warranty

Dimensions are 13" x 11.5" x 5"

The juicer will need a surface to clamp onto, e.g. a table or a counter top. This must not be more than 2.75" in thickness and needs to be a minimum of 2" deep
Z-Star Manual Juicer Z-710 parts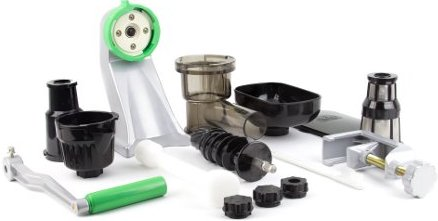 Product Reviews
Quite organic and cheap

Posted by Nawaz on 15th Feb 2018

Excellent product robust yet the quality of juice is high grade. A cheap way of getting into the health benefits of juicing and no electric needed.
Perfect for 1-2 persons.

Great Manual Juicer

Posted by Veronique on 4th Oct 2016

I didn't want the headache of buying an electrical juicer that would cause problems in the future and hence, decided to purchase this manual juicer, especially because, I only really want to juice wheatgrass. This is a very good manual juicer for wheatgrass. It is extremely easy to use and clean. I really can't complain