Vitamix Professional Series 300 Blender in Black
Vitamix Professional Series 300 Blender in Black
Product Description
Vitamix Professional Series 300 Blender
Vitamix Professional Series 300 Blender Key Facts Sheet Click Here
The Vitamix Professional Series 300 Blender provides the features of a commercial blender with a significantly reduced sound. The Vitamix Professional Series 300 offers a 2 horsepower motor with a full variable speed control and a pulse option. The reduced noise of the Vitamix Series 300 Blender enables the motor to remain cooler for longer and the capability to blend the toughest of ingredients. This model is the latest model and is an upgrade from the ever popular TNC with the added advantage of a slightly quieter motor.
The Professional Series 300 Blender is a compact and very sleek looking blender in the Vitamix range of blenders. The redesigned 2 litre BPA-free container offers a sharp stainless blade with a wide base for quick and fine blending. The pouring spout has been upgraded to allows for quick and easy pouring. The Vitamix Professional Series 300 Blender is the perfect blender for the healthy food enthusiasts offering an appliance that can process virtually anything. This gives the flexibility for cookery lovers to try a range of different recipes.
Product Video
Key Features
Most powerful motor for household blenders
Pulse feature to get exactly the texture you want
Ten variable speeds to obtain the the perfect texture from thick green smoothies to hot soups
Tamper to give a physical swirl for complete mixing
You will receive the below items with the Vitamix Professional Series 300 Blender:

Chef's Tutorial DVD by Michael Voltaggio
Hard-back Complete Recipe Book offering a full range of different recipes to get you adventurous with your new kitchen gadget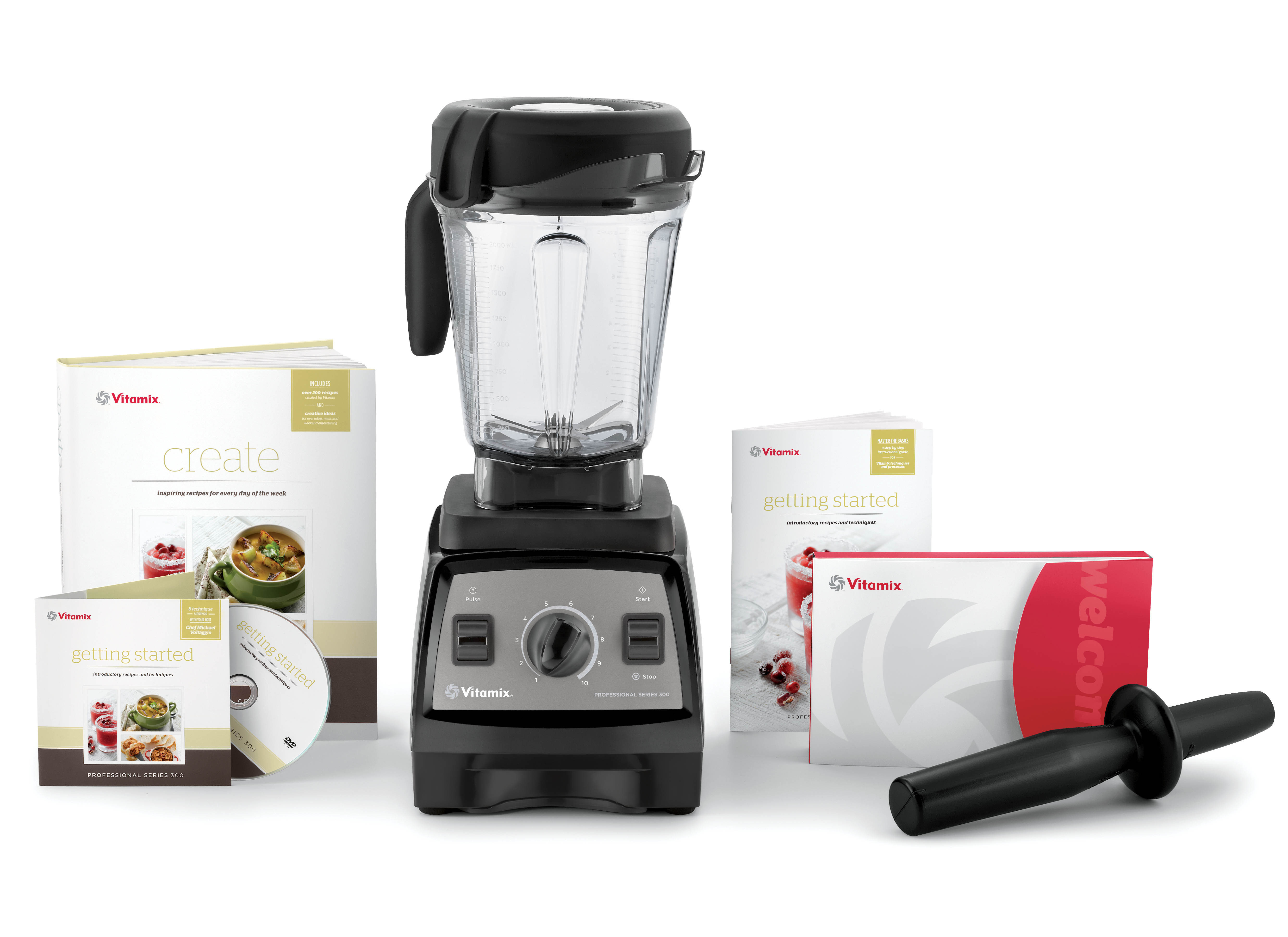 Technical Specifications
Choice of 3 colours (Black, Cream & Red)
Dimensions (mm): 239(L) x 196(W) x 442(H)
Warranty: 7 Years
Weight Unboxed: 5.6kg
Power: 2.2 HP Motor
Power: 1380 Watts
Product Reviews
This product hasn't received any reviews yet. Be the first to review this product!