Foodmatic Compact Slow Juicer
Foodmatic Compact Slow Juicer
Product Description
Foodmatic Compact Slow Juicer
Juicers.co.uk are pleased to bring you the Foodmatic Juicer. This is a high quality compact slow cold press juicer which comes from the same family as the Omega juicers and is the European version of the Omega CNC80 Compact Juicer.
There have been many juicers which have been launched over the past few years, but none have been as compact and small as this one yet the Foodmatic juicer packs a punch above its weight. It has some excellent juice yield, and at 80rpm it is designed to give high-quality, nutritious juice. With having such a small footprint, it can be stored away nicely in a cupboard or even left on your countertop the option is entirely yours. Like the Omega models previously it has all the benefits of being more than just a juicer, it is a nutrition centre with this being able to make nut butter, extrude pasta, grind coffee and spices, mince herbs and garlic together as well as make frozen desserts and baby food.
During our testing, we found that the improved front end parts including the juicing screen, auger and pressure adjusting nozzle all lead to fantastic juice quality with really dry pulp. We tested fruit and vegetables such as carrots, kale, apple, oranges, spinach, celery, etc.... We especially found that the new juicing screen allowed the process of juicing to be much quicker with the design change compared to other juicers on the market. Another key benefit we found was the increase in the size of the feeding chute; this meant that we had to chop up the fruit and vegetables much smaller than in other juicers and allowed us to save time in the preparation and get into the juicing process right away.
All of the front end juicing parts are made from BPA-Free plastics, and this is especially important now with the health concerns of plastic leaching out into the juice.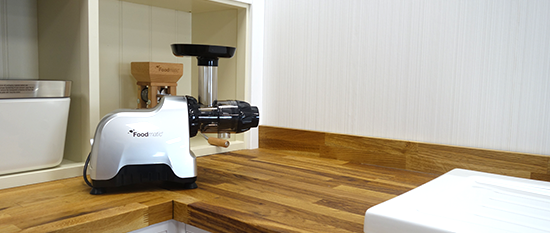 Key Benefits
Large feeding chute for improved juicing and lowered preparation time
Low 80RPM speed which allows you to extract the maximum nutritional value from the produce and minimise oxidation
High yielding juicer especially for leafy greens, the pulp comes out bone dry
New compact auger made from GE Ultem which is 8 x times stronger
Homogenising screen for producing frozen sorbets as well as nut butter and extruding pasta
Includes 6 nozzles for different pasta shapes
Silent operation with up to 30 mins of continuous use
Reverse function to reduce the chances of clogging up
Product Demonstration
Product Overview
Technical Spec's
Dimensions: 41.6cm (length) x 31.4cm (height) x 16cm (width)
Colour: Silver
Weight: 5.9kg
Wattage: 200 Watts
Voltage: 220V 50/60Hz
Customers also viewed
Product Reviews
This product hasn't received any reviews yet. Be the first to review this product!