Hurom H-AA Alpha Series 3rd Generation Slow Juicer in Black
Hurom H-AA Alpha Series 3rd Generation Slow Juicer in Black
Product Description
Hurom H-AA 3rd Generation Alpha Series
If you're looking for the latest juicer from the Hurom range, then you do not need to look further than the Hurom H-AA Alpha 3rd Generation Model and an improvement in design and yield compared to its predecessor the Hurom HH 11 2nd Generation which will be available in Silver, Red and Black. In fact, most major manufacturers of slow vertical juicers have been slow recently in launching new models which have been an improvement to the 2nd Generation models (which have been in circulation for some years), so this model is indeed a very welcomed addition to the juicers.co.uk range.
Improvements
With so many slow juicers on the market we here at juicers.co.uk only stock the most premium and high quality built juicers, and when we got our hands on this juicer, we were very impressed with the quality and feel of the juicer. One thing we did notice right from the outset was the slimmer and sleeker body of the juicer. This also felt lighter which does mean if you plan on moving the juicer into a cupboard after juicing it certainly does make it easier. There are also some very noticeable upgrades to the parts of this juicer which include improved augur design, revamped spinning brush and juicing screen and a new gearing system on the juicing bowl. This new gearing system allows the spinning brush to rotate and an incredible 17 RPM which is much slower than the previous HH 11 2nd Generation which rotated at the same speed as the motor which was 43 RPM.
Key Features
Slow Cold Press Masticating Juicer at 43 RPM
High-Quality Brushless AC Motor
BPA Free with GE Ultem Plastic (8 x stronger than normal plastic)
Semi Transparent Feed Chute
New & improved working parts such as the auger, juicing screen, spinning brush and juicing bowl
Includes fine screen, coarse screen and homogenising screen to make frozen sorbets, nut butter or hummus
Self-cleaning function
Near silent operation
Improved Augur Design
The new auger design removes the wings from the previous 2nd generation which allow for better and easier assembly of the juicer and also as the wings were quite thin on the edges it means it is also less likely to break if dropped. Apart from that, the new design we believe will allow for more efficient juicing of your fruit and vegetables which will result in a greater yield
New Juicing Screen & Spinning Brush Design
The new juicing screen and spinning brush design make the new Hurom H-AA Alpha 3rd Generation model easier to assemble and maintain however most of all it can extract more juice from the fruit and vegetables. We found that the wiper blades were more robust than the previous version as well as the wiper blades having grooves at the bottom which allows the new gearing system to work.
Streamlined Juicing Bowl
The new juicing bowl design is a marked improvement in several different ways, and we believe that the biggest improvement is the new gearing system which allows the wiper blades to rotate at just 17rpm. This means that you get minimal foaming and also a well-mixed juice as a result. We also found that the juicer itself is more robust with fewer rubber parts and there is a cutout where the pulp would come out which means that it makes it far easier to clean.
The Hurom H-AA is versatile, not only does it come with the Fine Screen but it now comes with 2 new attachments the Coarse Screen and the Homogenizing Screen or Sorbet Screen. This opens up the possibility to use your juicer for a wide variety of recipes. These include nut and soya milk, frozen sorbet, nut butter, hummus, smoothies as well as juices.

Is it Easy to Clean and Use?
From our testing, we found it very easy to use and to clean. To get the highest possible yield with minimal cleaning, we advise that you chop the fruit and vegetable into small chunks which are about 2 inches in length and feed them in slowly. As soon as you see the pulp ejecting, then you feed in more. This will give you the best yield, driest pulp and also least amount of time cleaning the juicer.
Regarding cleaning, we advise at the end to keep the juicer running and poor in a glass of water with the juice cap closed and let the water build on in the juicing chamber. Then after 20 seconds drain and repeat. This will clean most of your juicer out, and then you simply rinse the parts in running water using the cleaning brush to clean the juicing screen.
Our Verdict
The new Hurom H-AA Alpha 3rd Generation Juicer is a fantastic juicer and one which we believe is an improvement over the previous 2nd Generation HH 11 2G model. Not only will this improve the quality of juice that you will be getting but also the extra attachments such as the coarse screen and homogenising screen make it even more versatile than previously.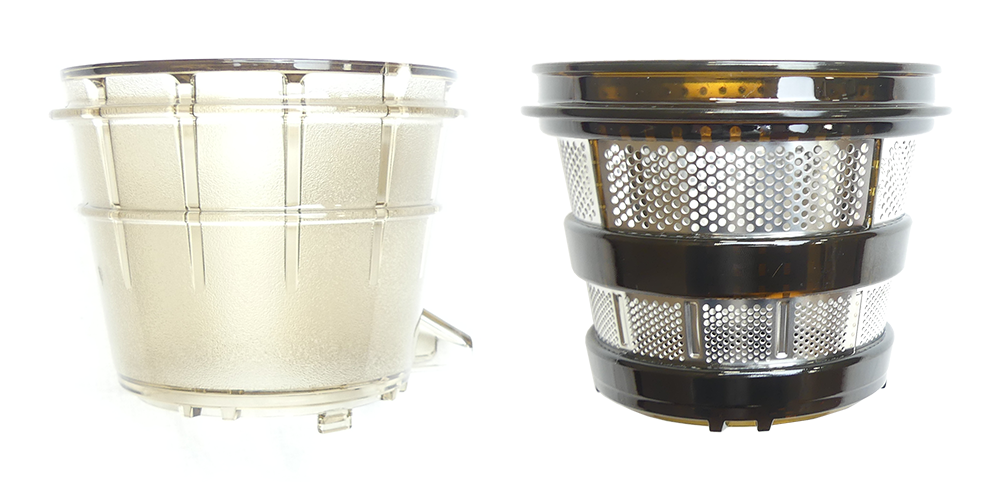 Technical Specifications
Colours: Silver, Burgundy and Black
Motor Speed: 43 RPM
Wiper Blade Speed: 17 RPM
Weight: 4.8 KG
Dimensions: 233mm (L) x 180mm (W) x 407mm (H)
Power: 150 Watts
Warranty: 5 Years Parts, 10 Years Motor
Product Overview
Product Review
Customers also viewed
Product Reviews
Great value for money

Posted by Magda on 31st Aug 2017

Highly recommended product, quite, easy to use, easy to clean. Small and very modern looking.