1) What fruits, vegetables and greens do you plan to juice?

Try and estimate broadly what percentage of each of the following you plan to juice – Soft Fruits, Citrus Fruits, Harder Fruits, Vegetables and Leafy Greens. Given the amazing variety of produce mother nature provides unfortunately no juicer is designed to excel at all of the above, so it's important to broadly identify what you primarily plan on juicing as this will heavily influence the best juicer for your needs. For example for me I know that I juice approximately 10% soft fruits, 25% leafy greens and 65% hard vegetables and fruits, as a result a masticating juicer is most suited to my needs.
2) Time to make a juice - what quantity of juice per day? 1 glass, 1 litre, 3 litres?
How many times per day or week do you plan to juice and what quantities of juice will you need to make? Is it just for you, you and your partner or your entire family? Is the time it takes to make a juice a major concern? Masticating juicers while producing the highest quality juice are much slower than high speed centrifugal juicers, if you need to make a lot of juice quickly and you are willing to sacrifice a little on quality then centrifugal juicers are a good option, however if juice quality is your primary concern and you plan to juice mainly vegetables and leafy greens then a masticating juicer is by far the best choice, the bad news is that a masticating juicer takes 60-100% more time to make a juice compared to a centrifugal juicer. For example when you are all prepared and ready to juice it will take a masticating juicer about 5-7 mins to make a 500ml of juice, while it would take a centrifugal juicer only 3-4 mins (however you will have a lot more waste!)
3) High juice yield & dry pulp
Juice yield is a critical way to measure the quality and effectiveness of a juicer. If you look online you will see many video comparisons showing how effective different juicers are at juicing the same quantities of produce. Typically as the Juice yield increases so does the price. For example the Samson 6 in 1 Juicer for £179 is an excellent juicer and our top selling juicer for under £200 however if you compare it to the Rolls Royce of Juicers; the Angel, which retails for £800, the difference in yield is quite apparent. The Angel for example can extract 25% more juice from carrots and 30% more from leafy greens. Twin gear masticating juicers tend to give the highest Juice yield and produce very dry pulp while centrifugal juicers tend to give the lowest yield and produce the wettest pulp.
4) Your Budget
Like most things in life you get what you pay for , same applies when it comes to juicers. Typically as the price goes up so does the juicer performance. With a higher price comes higher juice yield, more features, an easier to clean product, better warranty and in many cases a more ascetically appealing product. If you plan to make juicing a key part of your diet and health regime we recommend not skimping on the price, many people start off juicing by buying a cheap centrifugal juicer for less than £100. This is false economy; you may quickly become disheartened with the effort involved in assembling the juicer, the large amount of waste and indeed poor quality of juice and the juicer and in turn the juicer becomes another kitchen gadget gathering dust or worse breaks down within the first year. If you are willing to spend £200+ you will get a high quality juicer that should last you at least 10 years.
5) Warranty
Juicers come with varying warranties, you will see that most high speed centrifugal juicers come with only 1-5 year warranties as the motors can burn out, on the other had masticating juicers come with substantial 10 year plus domestic warranties on the motor and 5 year plus warranties on the parts. Ensure to check where warranties are serviced and what the warranties do and do not cover. Juicers.co.uk are the official distributors and retailers for the products we sell, we have a dedicated service centre based in the UK where we can quickly repair juicers and we carry a full range of spare parts for the Juicers we sell.
6) Ability to juice leafy greens

In my opinion the greatest benefit of juicing is the capacity to extract a raw live juice from leafy green vegetables. No other foods are as rich in vitamins, minerals and enzymes as leafy greens especially wheatgrass, spinach, kale, chard, cabbage etc.. Centrifugal juicers are very poor at juicing leafy greens and in effect simply cannot juice them. Our advice is to stick with masticating juicers (single gear = good, twin gear = best) which are excellent at extracting leafy green juice.
7) The time it takes to assemble, disassemble and clean a juicer
The time it takes to assemble, disassemble and clean a juicer is overhyped in many marketing brochures. Our experience tells us that once you've used a juicer a few times you become proficient at assembly, disassembly and cleaning. Yes many juicers have more parts but ultimately you are taking about seconds to rinse clean these parts under a running tap. A word of warning do not be overly swayed by one juicer claiming to be dramatically quicker to clean than the all the rest, we have not seen this magic juicer yet.
8) Feed chute size
The ability to juice whole apples and other fruits and vegetables is important for people who wish to reduce the prep time involved in chopping fruits and vegetables prior to juicing. Most centrifugal juicers have large feed chutes to take whole apples etc… Most masticating juicers have a smaller feed chute of typically 4 cms , this prevents over feeding of the feed chute and is also a safety requirement under EU law (to prevent kids from putting their hands down the chute!) Nonetheless your prep time is typically only increased marginally with masticating juicers, I find I only have to chop apples, beets and some large carrots. Some of the latest vertical masticating juicers such as the Kuvings and Biochef juicers now come with a 2 step feed chute that can take whole pieces of fruit such as apples.
9) Additional features & Accessories
Many juicers now come with a variety of food processing features. For example many can now make oils, nut butters, ice creams and sorbets, pasta, crush ice and coffee, can make soya and almond milk and a host of other grinding and mincing features. Ultimately we recommend your Juicer for Juicing, experience tells us that most of these other food processing features could be done using a cheap food processor and using your juicer regularly as a food processor could deteriorate its juicing performance, nonetheless keep an eye out in the product descriptions to see what accessories come with the juicers and if accessories can be purchased separately.
10) Juicer design and aesthetics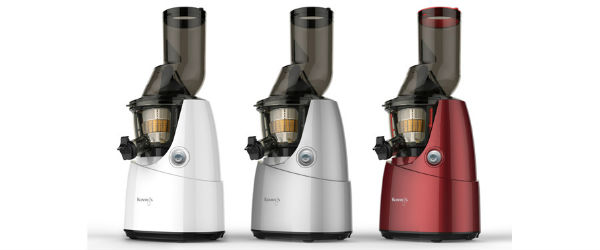 To get the most from your juicer we recommend you keep it visible in your kitchen otherwise it may end up unused in a cupboard somewhere. Many juicer designs are stunning; most of the leading manufacturers have tried to design a range of styles and colours for a contemporary kitchen environment. Consider the colour of other appliances in your kitchen, also consider the size and shape of your juicer and make sure to consider having space around your juicer for the collector bowls and for the produce you are juicing, also consider the space above your juicer where you will need to access the hopper to feed produce in. Many juicers are quite large and most now are of either horizontal or vertical persuasion, it is important to consider the juicer dimensions when choosing your juicer. Some of the most stunning juicers include the Sage Juicer 606, the Hurom HF second Generation in stainless steel and the all stainless steel Angel Juicers, these are sure to be the focal point of any kitchen.
Now that you have taken time to consider your key requirements lets go to Step 2 and compare the different types of juicers on the market to find the category of Juicer most suited to your needs – Step 2 Different Types of Juicers