Angel 7500 Twin Gear Juicer with Intelligent Auto Reverse
Angel 7500 Twin Gear Juicer with Intelligent Auto Reverse
Product Description
The Angel 7500 Juicer features the automatic reverse safety function, this feature is only available on the Angel 7500 and 8500s models, please see the product video that follows which details how this feature operates. The Angel Juicer 7500 automatically senses the additional pressure build-up and reverses out automatically to prevent blockages. This stops too much pressure building up inside the machine which could possibly damage the juicing screen.
Angel Juicers are regarded as the Rolls Royce of Juicers. In our 10+ years of selling juicers here at Juicers.co.uk we have yet to find a juicer that performs as well as the Angel Juicer in terms of extracting the highest possible juice yield and driest possible pulp. No other Juicer we've tested can extract as much Juice as the Angel from common produce like apples, carrots, wheatgrass and celery, the pulp comes out unbelievably dry compared to other juicers.

The Angel 7500 and all parts are made completely of stainless steel SUS-304 and the large twin gears have anti-bacterial properties adding to its unique hygienic construction.
If you are looking for the best juicer money can buy then look no further than the Angel. The extra 15-30% yield you get with the Angel versus any other juicer on the market will justify the extra cost over a 2-3 year period with the amount you will save on buying produce. The Angel is also a stunning design piece and will be a focal point of any kitchen.
Finally, and foremost, we are the official distributors of the Angel juicers in the UK and all our models come with a UK plug and are dispatched from our warehouse based in the UK so you can be rest assured that you a re purchasing from a very reliable and reputable company.
Angel Juicer 7500 Highlights
Fully stainless steel with antibacterial stainless steel gears
Removes 95% of pesticides and agrochemicals on the surface of non-organic Fruit and Vegetables by binding to the waste fibre (due to the design of the 2 large spinning stainless steel gear gears
The only juicer capable of efficiently extracting nutrients locked inside cellulose fibres so you get the maximum levels of enzymes and nutrients from deep within the fibres
Easy to assemble, use and clean (Only 4 juicing parts)
Six outstanding operational safety features
Extracts up to 2 times more juice & 3 times more nutrients than some other twin gear machines
3HP Motor grinding force with the gears spinning at a speed of only 86RPM
Intelligent Auto Reverse - automatically senses the additional pressure build-up and reverses out automatically to prevent blockages
Super quiet when running
Highest quality design and construction
Makes delicious soy milk
Grinds soybeans, beans, grains, coffee beans and makes nut butters (optional nut butter screen required)
Angel Juicer has won 3 international awards and has been recognised as the Number 1 twin gear / cold press juicer in the world
Product Video
Technical Specification
Juices Wheatgrass? Yes, the best we have ever used!
Dishwasher safe? No
All stainless steel construction
RPM: 86
3 HP Grinding Force Motor
Dimensions (l x w x h) 540 x 260 x 360 mm
Weight (Unboxed) 9.5kg
Feeding Chamber 43mm
Parts Warranty 3 years (Domestic use only)
Motor Warranty 5 years (Domestic use only)
Colour: Stainless Steel

(the colour of the sticker on the switch buttons may vary, however, this is the latest Angel 7500 model)
Angel Juicer 7500 Parts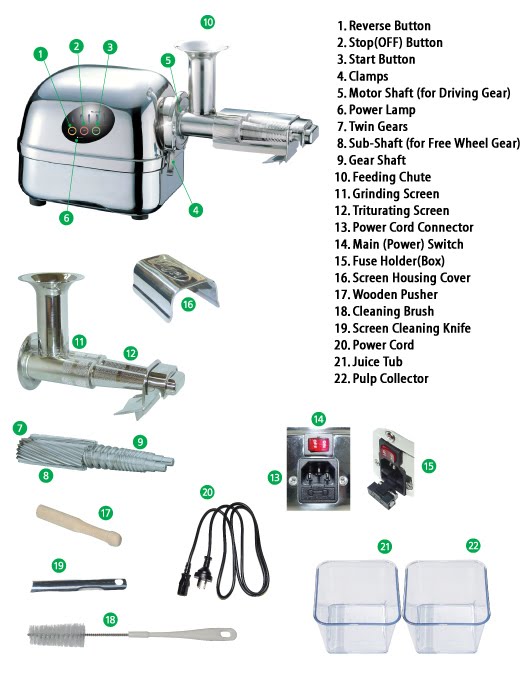 * Please note the silicone ring that fits around the juicing screen is not covered under warranty as it is an optional part as detailed in the manual.
Product Reviews
Wonderful juicer!

Posted by Unknown on 7th Mar 2019

This is my second juicer having been disappointed by a previous one of a much cheaper brand. Although I had to take a deep breath before committing to the price of the Angel I have no regrets now that I have used it for a week and am totally pleased with my purchase. This is an excellent quality juicer; easy to use; easy to clean giving a great yield; aesthetically pleasing and clearly made to last. The stainless steel is extremely pleasant to handle and the juicing itself is fun and enjoyable. I love it and I am very grateful to have this juicer help me keep my health in good shape and am enjoying the wonderful fresh juices! If your doubtful take the plunge and get one - you won't regret it!!

Excellent product

Posted by Roger Green on 1st Jan 2019

Having owned 6 juicers to date none of them have been able to stand up to daily use for more than 1 year. The Angel 7500 is quite simply amazing and produces more juice than any other juicer we've previously owned. The fibre is almost dry and its extremely easy to clean after use. What a great purchase !!

Great Juicer!!!

Posted by Frederick Runnacles on 15th Aug 2018

Never known the pulp so dry. Best performing juicer I have
ever owned. Worth every penny.

So far, so good

Posted by Dr. New Juicer on 12th Apr 2018

Never juiced before, so mine is not a seasoned comparative opinion, but this juicer is easy to use and the juice it produces does seem full of 'stuff', which I assume to be goodness.

First juicing was tentative and I did manage to get some beetroot juice on my wife's worktop, but worse things have happened at sea and my second juicing was more authoritative and worktop friendly.

Cleaning it (the machine, not the worktop) afterwards is a bit of a pain as juice gunge and plant remains' gunge does get in every nook and cranny of the action part of the machine and takes a bit of gentle persuasion with the loofah brush and warm soapy water to win the battle and restore stainless steel angelina to her rightful pristine self again. I did manage to briefly dip the bit (the steam engine funnel section) it says in the instructions NOT TO DIP in the water but everything seems to still be working fine.

For those naive juicers to be, like me, the scummy looking scum that you get on top of the juice and that I carefully spooned off first time, is (on reading the manual) part of the popeye goodness of this machine. So second time I preserved the froth, pretended it was guiness and now I'm bouncing off the walls with energy.

I carefully followed a recipe first go and the juice was good, but second time being a wacky PhD sort of guy, I just went for it and tried a kale, spinach, orange, beetroot, carrot, broccoli, apple & pear smoothie. I have to say that while it maybe an acquired taste, it was specially foamy good, and I really did feel energised and alive after downing it.

So, if you're not a juicer, be bold and go where you've never been before, buy an angel juicer and get to the parts that other drinks apparently don't reach.


Best Wheatgrass Juicer!

Posted by Joanna on 27th Sep 2016

The Angel juicer has to be the best wheatgrass juicer compared to any other masticating juicer. The juicer literally just sucks in the wheatgrass and all leafy greens for that matter. I don't need to use the push at all when juicing wheatgrass or leafy greens. It is simply a superb juicer and the quality of juice produced is amazing! I can fully understand why twin gear juicers are more expensive than single augur machines.
Other Details
Root Veg/Hard Fruit Rating:
5