Kuvings C9500 Whole Fruit Juicer in Silver with Accessory Pack
Kuvings C9500 Whole Fruit Juicer in Silver with Accessory Pack
Product Description
Kuvings C9500 Whole Fruit Juicer with Accessory Pack
Juicers.co.uk is extremely pleased to bring you the Kuvings C9500, which serves as the updated version of the popular B6000 and has recently been improved for 2018 with new colours and refined parts. The C9500 brings you all the great features found in the B6000, but with a variety of improvements to make juicing easier, faster and more convenient, while retaining loads of the nutritional value from your ingredients.
Kuvings were the first premium brand on the market to introduce a slow cold press juicer which was able to deal with whole fruits. This helped immensely with people who wanted high-quality juice but did not want all of the hassles of chopping and cutting your fruit and vegetable into small chunks. The B6000 bridged that gap and since its launch in 2014 the brand has grown immensely popular. The C9500 still retains this impressive feeding chute size and improves it to a 77mm diameter, keeping preparation to a minimum.
Key Features
60 RPM motor speed

Award winning noise reduction technology

77 mm wide feed chute hopper

Included coarse screen and homogenising blank attachment

Sleek and futuristic design

Very easy to clean

Simple to assemble

BPA free materials
Product Video
Efficient Juicing Performance
The C9500 still maintains an impressive motor speed of 60 RPM. The slow speed ensures that the juice extracted from the fruit and vegetables is highly nutritious and causes minimal oxidation during the process. It also allows the user to create a fine juice, free from fibre. Kuvings have realised that some models on the market because of the way they have been designed can allow small to moderate amounts of fibre meaning that if you preferred your juice to be completely free of fibre, you would have to sieve your juice again.
Useful Accessories
The Kuvings C9500 is available with 2 different screen accessories to broaden its abilities. The first of these is a coarse screen, which functions similarly to the standard fine screen. The main difference between them is that the coarse screen lets more pulp into the juice produced allowing for a thicker, smoothie like texture. The other accessory is the homogenising blank, which can be used for processing ingredients to produce foods such as sorbet, nut butter and baby food.

Component Upgrades
The Kuvings C9500 has been improved to ensure that this filter is even finer than the previous model. This means that minimal fibre is passed through the screen allowing for the fibre to be efficiently separated.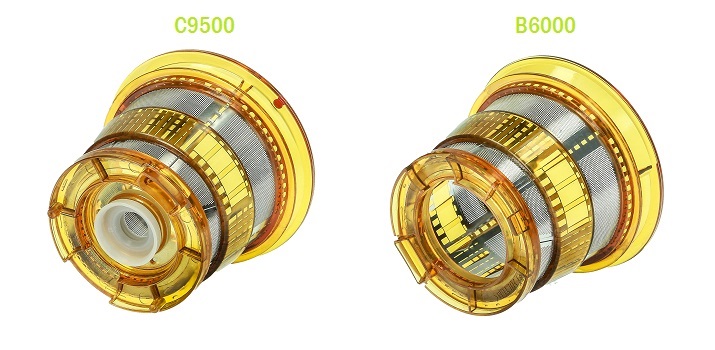 The newly shaped augur has been completely revamped. Fibrous fruit and vegetables especially kale, spinach, wheatgrass have been knowing to cause a lot of pulp and fibre to be collected on the bottom of the juicing bowl. As a result, this can cause the augur to be pushed up and therefore the user would have to dismantle the juicer and clean it out and start again. The hollow bottom on the newly designed auger means that pulp can be effectively stored underneath the juicer without interfering with the juicing process. This means that the user gets a more pleasant experience as well as a finer juice which is pulp free.
The bottom of the juicing bowl has also been revamped to ensure that now there is no silicone pulp control plug. The removal of the plug makes it easier to clean and maintain the juice bowl. The bowl also has 4 interlock points built into its base, allowing for a more secure fit to the juicer body, increasing the safety of the device when in use.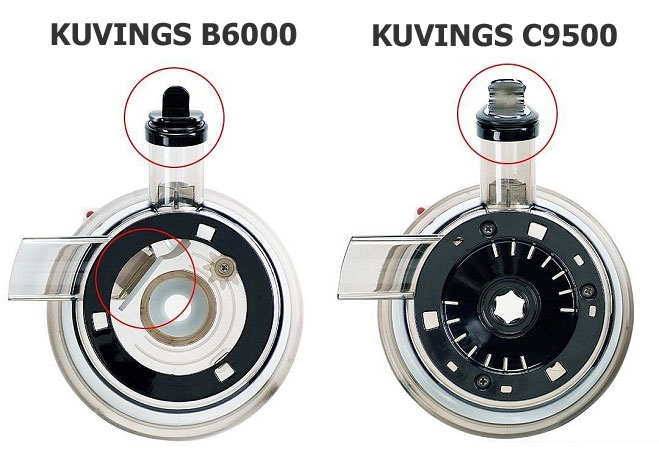 Finally, a new juice flap has been designed. This has been made to be more robust and stronger than the previous model meaning that it could stand up to everyday use and also at the same time looks much nicer.
Kuvings Comparison Video
Technical Specifications
Model: C9500

Colour: Silver

Dimensions LxWxH (mm): 228 x 208 x 446

Speed (RPM): 60

Warranty: 10 Years (Motor) 2 Years (Parts)

Wattage: 240

Weight (kg): 6.9
Product Reviews
Excellent Piece of Kit

Posted by Mike on 26th Apr 2018

I was using a Champion horizontal juicer which is very good but a nightmare to clean and it requires you to do a lot of prep work on your veggies and fruits before use. This unit is so easy to clean and you can put most of your veggies and fruits in whole with no drama. Just don't force things in with the plunger as this can cause it to jam. Gravity will do most of the work for you. Also makes good smoothies with the supplied attachment. Comes with an excellent book with lots of useful recipes. I'll be buying their vacuum blender next after all the good reviews i've seen.

Great piece of Kit

Posted by mick on 17th Mar 2018

well l had a good hard look what was on the market.and was impressed by one youtube guy from las vegas who had nothing but good things to say about the kuvings brand and in particular the slow cold juicer.and that sold it for me and the proof is in the pudding he's not wrong.so impressed with it how easy it is to clean.how easy it is to feed the various fruits and veg in to the kuvings and how quick it is at the job its meant for.its my first time juicing and the flavours are just incredible made up with this Awesome piece of kit.
Other Details
Root Veg/Hard Fruit Rating:
4