Omega VERT VSJ843RR Slow Juicer in Red
Omega VERT VSJ843RR Slow Juicer in Red
Product Description
Omega VERT VSJ843R Slow Juicer
Fresh from the popular Omega Juicers brand is the Omega VERT VSJ843R Slow Juicer, a vertical juicer which performs exceptionally on every level. The Omega VERT shares many similarities with the Hurom HH 11 Elite Juicer, with the same parts on the front, the popular 43 RPM dual winged augur, steel Ultem screen for juicing and ease of assembly. Both juicers maximise the juice yield, squeezing out every available drop. The Hurom model has the added advantage of a control lever to manage pulp which is essential for smoothies and also a convenient stand for drying parts, neither of which are included with the Omega. The Hurom is also more compact, with the Omega VERT featuring a larger body.

The all-new Omega VERT VRT VSJ843R boasts extensive enhancements compare to existing VRT designs and is supported by the industry leading 15 year manufacturer warranty from Omega.
Omega has chosen Juicers.co.uk to be one of their official UK distributors, providing you with the peace of mind of knowing that you are buying from experts in Omega juicing technology.
Key Features
Slow 43 RPM motor with quiet operation
Efficient dual winged augur
Improved spinning brush design
15 year manufacturer warranty
Easy to clean with dishwasher-safe parts
Simple to assemble
BPA free materials
Product Video
Advantages of the Omega VERT
The juice extraction process on horizontal masticating slow speed juicers is compromised by only having a relatively small area for the augur and juicing strainer. The introduction of the vertical juicing mechanism; includes a much bigger surface area for the strainer allows the juice to move through the mechanism far more quickly. Still only moving at 43 RPM, the vertical juicing technology has the ability to extract one litre of juice much more quickly than a horizontal juicer, taking only around half of the time.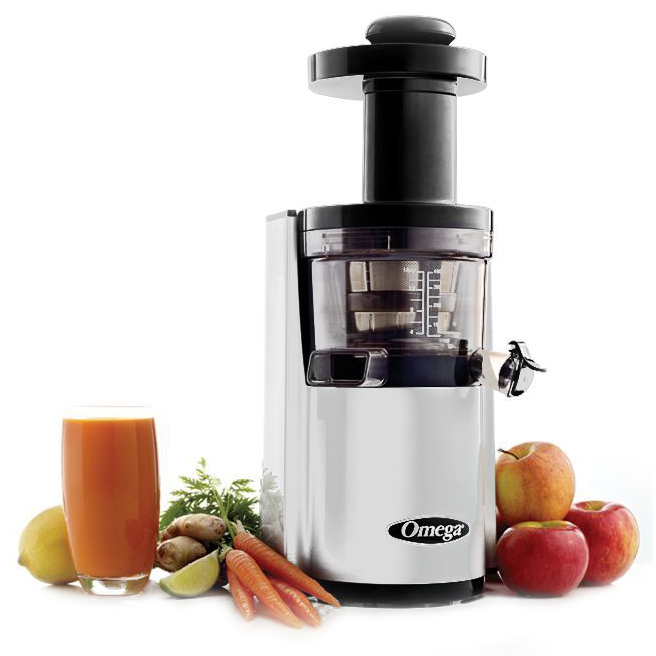 An extra advantage to the vertical juicing mechanism is that as you feed the produce in; it's gripped by the augur and drawn further down, creating an almost automatic feeding device. The device called the food pusher is ideal for use with soft leafy greens. GE Ultem has been used to manufacture both the juice strainer and an augur screw, creating components with are eight times as strong as traditional juicing materials. GE Ultem has the added benefits of being both food safe and BPA free.
Cleaning the Omega VERT is quick, simple and easy: all you need is water. After you've finished juicing, just pour in some water and you'll be able to flush through any remaining pulp left. If you need to dissemble and clean the unit, each part clicks into position with ease making the whole process fast and convenient. As a general rule, vertical juicers take half the time that a horizontal juicer takes to dissemble, clean and put back together.
Although the VSJ843R series from Omega has been designed similarly to the VSJ843Q Omega series in the US, there may be minor differences in the motor cover shape. Technology and performance are however identical.
Technical Specifications
Product Reviews
So far so good, delighted!

Posted by Susan on 31st Jan 2019

I had been using a centrifugal juicer for years and it was coming to the end of its life. I did LOTS of research and you tube watching to make a decision and I decided the vertical omega 3 VSJ843 was the one for me. It's so much quieter and less pulp it also tastes much better with less foam than the centrifugal ones.
I have only had it a week or so it's early days but so far delighted.

great juicer

Posted by Unknown on 5th Jul 2017

great juicer. easy to clean. makes juices you can taste every single bit of fruit/vegetable.

Very good quality

Posted by Luzvi on 24th Mar 2017

I highly recommend the Omega VSJ 843. I love using to make my nut and seed milk.

Satisfied

Posted by John on 9th Jan 2017

The juicer is better then expected, works very well and squeeze out the juice from the fruits as expected.
Other Details
Root Veg/Hard Fruit Rating:
4