Samson Juicer GB 9001 in Ivory
Samson Juicer GB 9001 in Ivory
Product Description
Samson Juicer GB 9001
Offering superb performance and great value for money, the Samson 6 in 1 Juicer GB 9002 has been our top-selling masticating juicer of the last decade and understandably so.
But it's not just our customers that love it; Which Magazine awarded the UK Best Buy of the category to the Samson 6 in1 Juicer. The 6 in 1 scooped the prize for several reasons. At a paltry £199, the Samson 6 in 1 is extremely affordable and is one of the most economical horizontal masticating juicers available on the market. But it's not just excellent value; it has a performance to match, being a great all-rounder. Whether you want to juice vegetables or fruit, or whizz up some leafy greens or wheatgrass, the Samson 6 in 1 ticks the box. In fact, the Samson 6 in 1 is so efficient at juicing wheatgrass it's often to referred to as the "original wheatgrass juicer". Alongside this range of great features are a generous 10 year warranty from the manufacturer which covers the motor and an additional 5 year manufacturer warranty on all of the parts. These can be professionally serviced in the UK in our Samson service centre.
The Samson 6 in 1 really is the only kitchen appliance you will need; it has a huge number of applications. Some of the possibilities include homogenising, making sorbet, baby food, nut butters, bean curd, dips and soup. You can also mince your own fish and meat plus add seasonings; you can even grind your own coffee beans! If you choose to add the optional oil extractor attachment, you can also produce your very own organic pressed oils, including hemp and linseed.
The horizontal single gear juicing concept was first pioneered by Samson who in 1992 created the innovative Single Auger Juicer. Since the launch of this unique product nearly 25 years ago, further developments have been made in juicing technology which have led to the strong, compact and high quality Samson 6 in 1 Juicer. A great value product that doesn't sacrifice quality for economy, the 2015 Samson GB 9002 features extra-strong GE Ultem in the screens to produce a performance which is up to eight times as strong.

The Samson range of products are distributed exclusively by juicers.co.uk W11 LTD which means that when you make a purchase from us you have the reassurance of knowing you are effectively buying directly from Samson themselves. With a top quality technical support team, an industry leading warranty, in-depth product knowledge and excellent customer service, you will appreciate why Samson have chosen us as the home of their juicing range.
"Juicers - Tried and tested" - as featured on the Alan Titchmarsh Show, 27th January 2014, ITV.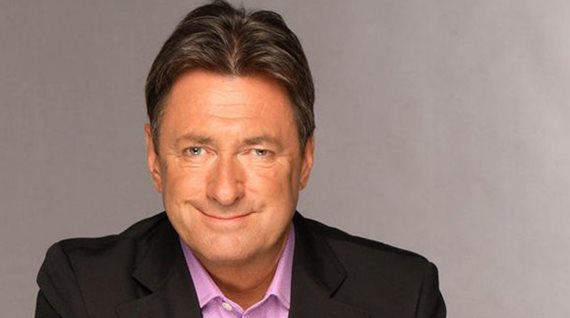 Key Features
Can be used to extract juices from hard-to-process products such as pine needles and aloe; no other juicers have been able to achieve this before. Hard fruits, vegetables, leafy greens and wheatgrass also all benefit by the juice retaining its full complement of enzymes and nutrients after extraction, unlike high speed models

Retention of the full flavour of any fruits and vegetables being processed, thanks to the use of powerful but low speed technology, designed specifically to maximise nutritional value

Many other features as well as juicing allow a number of other processes including the production of bean curd, baby food, sorbet, nut betters, pasta noodles, dips and soups. It can also homogenise and mince everything from seasonings to fish and meat, plus grind beans for coffee

Storage and cleaning is simple and quick with easy re-assembly

Heat output, noise and energy consumption are all low resulting in an energy efficient appliance

Extra attachments available separately including the salad slicer and oil extractor

Enhanced parts including an extra-strong juicing screen plus an upgraded augur

As the sole distributor in the UK of Samson juicers, we carry the full range of 15 different accessories in parts so if the need arises, the process of getting a replacement is simple and quick

Offers the best value on the juicing market

GE Ultem has been used in the manufacture to produce components which are durable, tough and strong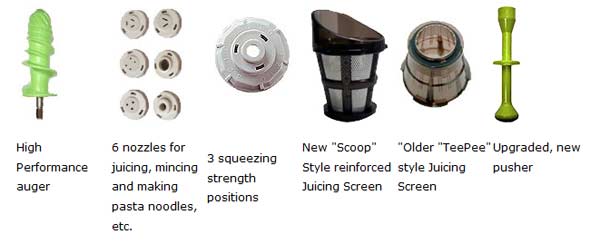 What are the 6 functions?
As the name suggests, the Samson 6 in 1 Juicer has six main functions which are as follows:
1. Vegetable juicing
Carrots, parsley, celery, kale, spinach, cucumber, wheatgrass, sprouts, ginger and leafy greens can all have their juices extracted easily, preserving the nutrients. In addition, pine needles and aloe can be processed, something no other juicer has ever been able to offer the market before.
2. Fruit juicing
The Samson does more than extracting juice; the low speed technology allows every trace of nutritional value to be retained, which means the flavours and taste will be full-bodied and fresh.
3. Seasoning mincer and chopper
The 6 in 1 will add taste and depth of flavour to your dishes by chopping and mincing all seasonings such as onion, garlic, peppers, scallion, radish and ginger, thanks to the free mincer screen.
4. Meat and fish mincer
With the Samson you can literally make mincemeat from your food, including meat and fish. Used with seasonings or on their own, all kinds of fish and meat can be chopped and minced finely whilst still retaining their texture and taste.
5. Pasta and bread stick maker
There's nothing more comforting than the smell of freshly cooked bread but with the juicer you can make everything from bread sticks to pasta noodles or even cookies using either steamed rice or dough.
6. Sorbet and nut butter maker
Whizz up a delicious sorbet or create your own nut butter products using almonds or peanuts; nothing tastes better than a fresh, home-made version!
Product Video
Optional Attachment: Oil Extractor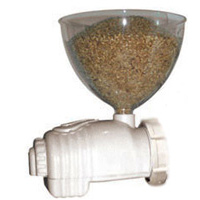 If you want the convenience and luxury of being able to create your own organic pressed oils, you can purchase the optional oil extractor attachment. Proving to be a real hit with customers, this extra attachment can be used to crush and compress dry foods such as sesame seeds, flax seeds and hemp seed.
Taking just 15 seconds to take apart, clean and then put back together, the oil extractor attachment is the very epitome of convenience and simplicity. Sliding into the augur slot and replacing the juicing parts on the front end, the seeds are collected via an easy-feed chute before being powerfully crushed and then pressed. As the oil is extracted it drips into the collection jug ready for use. Available in both black and ivory colours to complement the main 6 in 1 juicing unit.
Optional Attachment: Salad Slicer and Ice Crusher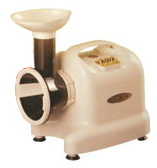 Making the preparation of sophisticated salads a matter of seconds, the salad slicer retains all the nutrition via the low speed mechanism. This prevents the salad leaves being crushed and losing valuable vitamins and minerals. The same attachment can be used to create long, cool drinks by working as a powerful ice crusher. Customers have the choice of either black or ivory for this attachment.
Technical Specifications
The unit weighs 14.6 lbs

15 inches long, 12 inches wide, 7 inches tall

220-240 V/AC/50-60 Hz power voltage

200 W power consumption

Ultra-strong GE Ultem used for Mincing and Juicing Screens

1750 RPM motor speed

80 RPM auger speed

1.5 HP squeezing power

160 W (1/3 HP) motor capacity

6-14/25 inches total gear length

5-1/5 inches cutting porting gear length

Convenient handle for portability

Pusher, screen, 1 piece of housing, augur to clean after every use

Parts readily available for replacement

10 year manufacturer warranty for motor, 5 year warranty for operational parts

The ivory model features contrasting black labels and buttons
Parts Included
Ultra strong GE Ultem Mincing and Juicing Screens for the toughest possible performance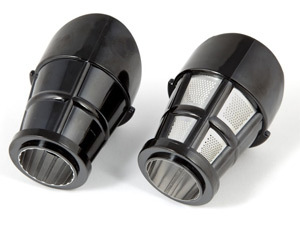 Product Reviews
This product hasn't received any reviews yet. Be the first to review this product!
Other Details
Root Veg/Hard Fruit Rating:
3