Samson Advanced Juicer 9006 Chrome
Samson Advanced Juicer 9006 Chrome
Product Description
Samson Advanced Juicer 9006 Chrome
The newest addition to our highly successful juicing range, the Samson Advanced Juicer 9006 Chrome is the hotly anticipated upgrade to the Samson Juicer 9002, our all-time top seller. Samson say it's difficult to top the most successful juicer we've ever made, but we think the Samson Advanced Juicer 9006 Chrome does just that with a range of exciting new features and improvements. The GE-ULTEM Augur has been complete reconfigured with a ringed tip made from stainless steel which allows every last drop of juice to be squeezed out. There's also an upgraded GE Ultem Juicing Screen and Mincing Cone for the ultimate performance. The motor and all parts have an extend 15 year warranty and you can choose from a range of vibrant colours models including the burgundy 9007, chrome 9006, black 9005 and brilliant white 9004.
The Samson 6 in 1 Juicer was launched a number of years ago but its success has now been eclipsed by the Samson Advanced Juicer range. For just a little bit extra customers can enjoy all the benefits that come with a really top performing juicing machine, as well as a greater selection of smart colours and extended protection from the warranty.
Samson are widely recognised as one of the leading manufacturers of juicers, having pioneered single gear machines and created the Single Auger, a real innovation in juicing back in 1992. Their outstanding quality and value for money has resulted in the Which Best Buy being awarded to them.

The entire Samson range of products is being distributed in the UK exclusively by juicers.co.uk W11 LTD; you won't find these quality items elsewhere. Buying from us means you have the peace of mind of knowing that you are effectively buying directly from Samson themselves. As their sole appointed distributors in the UK, we'll give you outstanding customer service backed up by unbeatable knowledge on the Samson range of products. This combined with our generous warranty and the support from the Samson technical team means the very best.
Key Features
8 times more strength than traditional juicers thanks to GE Ultem (FDA approved) used for both the screens and the augur
GE Ultem juicing screen made from stainless steel
attachments which lock on simply for maximum convenience and ease of use
quick to set up
maximises nutritional value of juice with the use of Single Gear Slow Rotates at a speed of 80RPM
superb for extracting juice from both fruit and vegetables
produces less foam than twin gear juicing machines when used with leafy greens or wheatgrass
variable pressure controls allow you to get more juice
easy-carry handle
simple push-button operation
15 year manufacturer's warranty covering both the motor and all operational parts
So What's New?
The Samson Advanced Juicer (available in models 9004/9005/9006/9007) has a number of enhancements compared to the original Samson model, the 6 in 1 Juicer (model GB-9001/9002). Here are some of the main improvements:
optimised juice retrieval due to a 3 stage Auger which is 8x tougher thanks to GE Ultem
more juice can be squeezed out with the Auger ringed tip made from stainless steel
newly contoured body offered in a wider range of contemporary colours including chrome, white, black and burgundy
a longer warranty, increased to 15 years, up from 10 years
Product Video
New 8 x times stronger Auger & Juicing Screen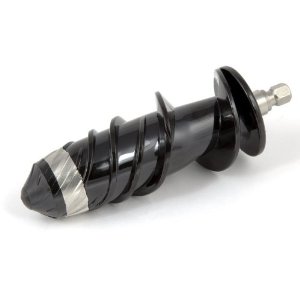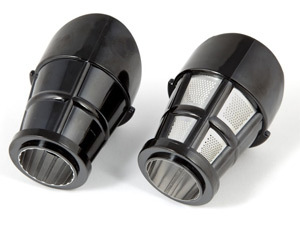 Some of the same great functions
Although there have been some great improvements to the Samson Advanced Juicer, there were lots of original features where nothing needed to be changed. Some of the functions you'll still find include the following:
A vegetable juicer
Juicers are just as good as extracting juice from vegetables as from fruit as well as some other types of edible substances. Carrots, spinach, celery, wheatgrass, parsley, kale, ginger, cucumber and sprouts are just some of the types of healthy juices you could be extracting. Pine needles and aloe can also be processed; there are no other juicers on the market which are currently capable of extracting juice from these.
Fruit juicer
One of the original and still one of the best uses for your juicer, it's perfect for retrieving the most juice possible from all of your fruit. Opting for a low-speed screw to extract the juice means that more trace elements and nutrients will survive the process without being obliterated.
Seasoning mincer/chopper
There's a very fine balance between finely chopping seasoning and destroying the natural flavourings. Due to the inclusion of the mincer screen, the Samson Advanced Juicer can mince and chop all types of seasonings including onion, garlic, ginger, peppers, radish, scallion and lots more, without reducing the flavours or nutritional value, unlike other high speed blenders or food processors.
Meat and fish mincer
In addition to seasonings, the Samson Advanced Juicer can also chop and mince fish and meat; this can be done either singly or together with the seasonings to create a delicious dish in one easy step.
Pasta and bread stick maker
Using steamed rice or dough, the juicer can create pasta noodles, cookies and breadsticks for that scrumptious just-baked taste.
Nut butter and sorbet maker
Making sorbets using frozen fruits is simply using the Samson Advanced Juicer, or you could opt for delicious home-made nut-butters from either almonds or peanuts.
Optional attachment: Oil Extractor
The optional extra attachment, the oil extractor, has proven to be a huge hit with customers and is one of the unique extras on the market. This extractor allows the oil to be removed from dry foods such as hemp seed, sesame seed and flax seed, allowing you to produce your very own organic and high quality fresh oils for use in the kitchen and on the table.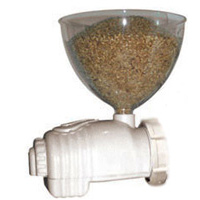 The oil extractor is remarkably easy to use, replacing the front end of the juicer and sliding into the augur slot. The stainless steel mechanism of the auger grinds the dry seeds which are poured down the chute and slowly compresses the crushed seed to squeeze out the oil which streams through into the collection jug.
Once tried, you'll be smitten as the difference in taste of organic oil which has been freshly pressed is clear for all to see. So for the opportunity to create your own organic home-pressed oil packed full of essential fatty acids and nutrients such as omega 3 and 6, all you need is 15 seconds. This is all it takes to take the oil extractor apart, give it a clean and put it back together ready for use.
Optional Attachment: Salad Slicer and Ice Shaver
A convenience you won't appreciate until you've tried it, the salad slicing attachment uses the low speeds of the juicer to shred your salad without sacrificing any of the nutritional content. Using the same attachment, it's also possible to shave or even crush ice, ideal for those long, cool summer drinks.
Included with the Samson Advanced Juicer:
Augur

Drum and cap

Cone for mincing

Juicing screen

Two collection cups - used for catching either pulp or juice

One sieve

Brush for cleaning

Tamper/Pusher

Nozzle for juicing

Nozzle for mincing

Two nozzles for noodles

Two nozzles for pasta

Operation user manual and full colour cook book
Technical Specfications
15 inches length x 12 inches width x 7 inches height

15 lbs. weight

230V/AC/60HZ power voltage rating

160W power consumption

1/3 HP single phase induction motor

1750 RPM motor speed

80 RPM auger speed

Patented design single rotating gear with masticating extraction motion

1.5 HP extraction power

6 14/25 inch overall gear length

5 1/5 inch cutting gear length

Push button controls (off/on/reverse)

15 year warranty on operational parts and motor
Product Reviews
Great Juicer - easy to clean and performance is great

Posted by AndyO on 6th Mar 2019

Bought this to replace a cheap £50 centrifugal juicer - that broke after 6 weeks.

We noticed the difference in the the pulp ejected is much dryer than the sodden mess left by the old juicer. Cleaning is MUCH easier and quicker.

As we had decided to juice long term and benefit from the other functionalities of the 9006 - this is why we spent more money to buy a quality product.

T he unit is well made and does not make hardly any noise . The only thing that is a little hard to juice is carrots but they just take a bit more pressure to get into the auger, apart from that we have had no issues using this machine and will be recommending this to anyone else who wants to start juicing.

Ordered and was delivered by the next day.

Good Value for the money

Posted by Unknown on 2nd Sep 2016

Delivery was quick to Spain!
I have just had this 2 days now but I am happy with the product. The Juice book was nice extra with loads of recipes.
Other Details
Root Veg/Hard Fruit Rating:
3