2018 was a great year for juicers, but 2019 sees some especially exciting innovative designs. Of course since there are so many styles and types of juicers we can't put them up in order against each other. So, with that in mind and 2019 on the horizon lets discuss the best juicers currently on the market. We've selected individual winners for the following categories.
Vertical Juicers
Wide Feed Juicers
Horizontal Juicers
Twin Gear Juicers
Best all rounder
Best juicer of 2019
Best Vertical Juicer

There are many vertical juicers on the market at the moment all with different helpful features. However, our winner this year was clear and unsurprisingly it is Hurom that takes the crown with their latest model the H100.
After putting the H100 through its paces it has quickly become our go to juicer as it excels in almost every way possible. We love the sleek sophisticated design that makes it feel like a drinks production device and the fact it doesn't look out of place in a modern kitchen is also another bonus.
Hurom is consistently excelling with its juicing technology and the new screen less design which we've never seen before, really does make the H100 a clear winner. The dual strainer separates the juice and pulp just like the screen you see in other vertical models. The strainer consists of 2 parts that slot together, leaving only very thin slits for juice to pass through. This strainer is much easier to clean after juicing since it can be separated, leaving plenty of room to reach bits of remaining pulp, plus you won't have to clean anything that resembles a sieve. A quick rinse and both strainer parts are ready to go.
Best Wide Feed Juicer

Designed as an upgrade to the already popular C9500, the EVO820 offers a refined design with some improvements that make it generally more durable. We love the new style of feed chute that features a flip-top lid with a wider diameter of 82mm. This makes juicing easier and faster than ever, while also improving safety during use, especially for children. Beyond its unique feed chute design, the EVO820 has a premium and modern appearance with a textured leather look body, which is supported by high-quality juicing components. The latest generation of components have some significant improvements, increasing durability and security during juicing.
Best Horizontal Juicer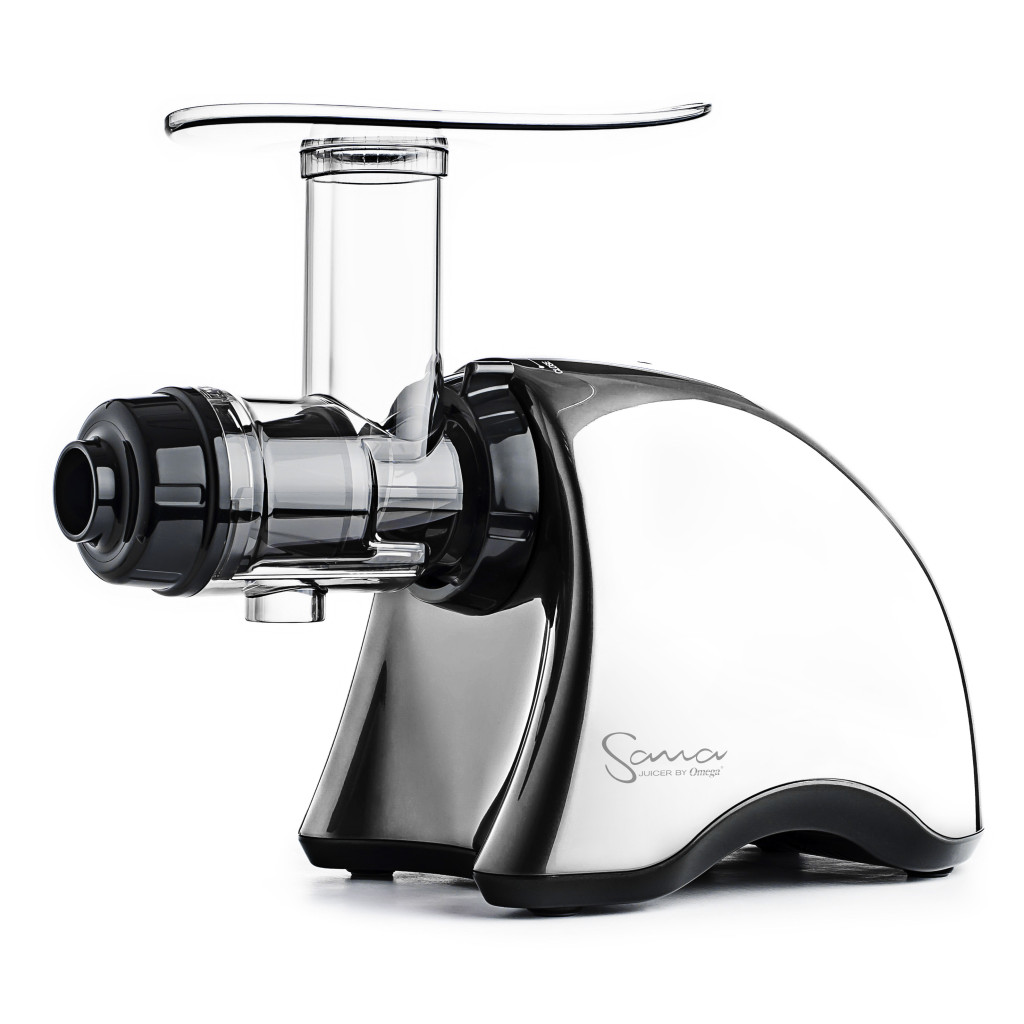 The Omega Sana 707 is our favourite for this year, placing it just above the Hurom GH Chef and Sana 606 models. The 707 design outweighs its competitors with a minimal and stylish finish that is available in a fantastic variety of colours. It also comes with a full set of accessories including a coarse screen, homogenising blank and nozzles as well as a bonus glass juice collection jug and a stainless steel pulp collection bowl. The juice and pulp collection bowls do not come with any other juicer which is why we feel that the package offered by the 707 is simply too good to turn down and the compact design means that it will take up less space on your kitchen worktop.
Best Twin Gear Juicer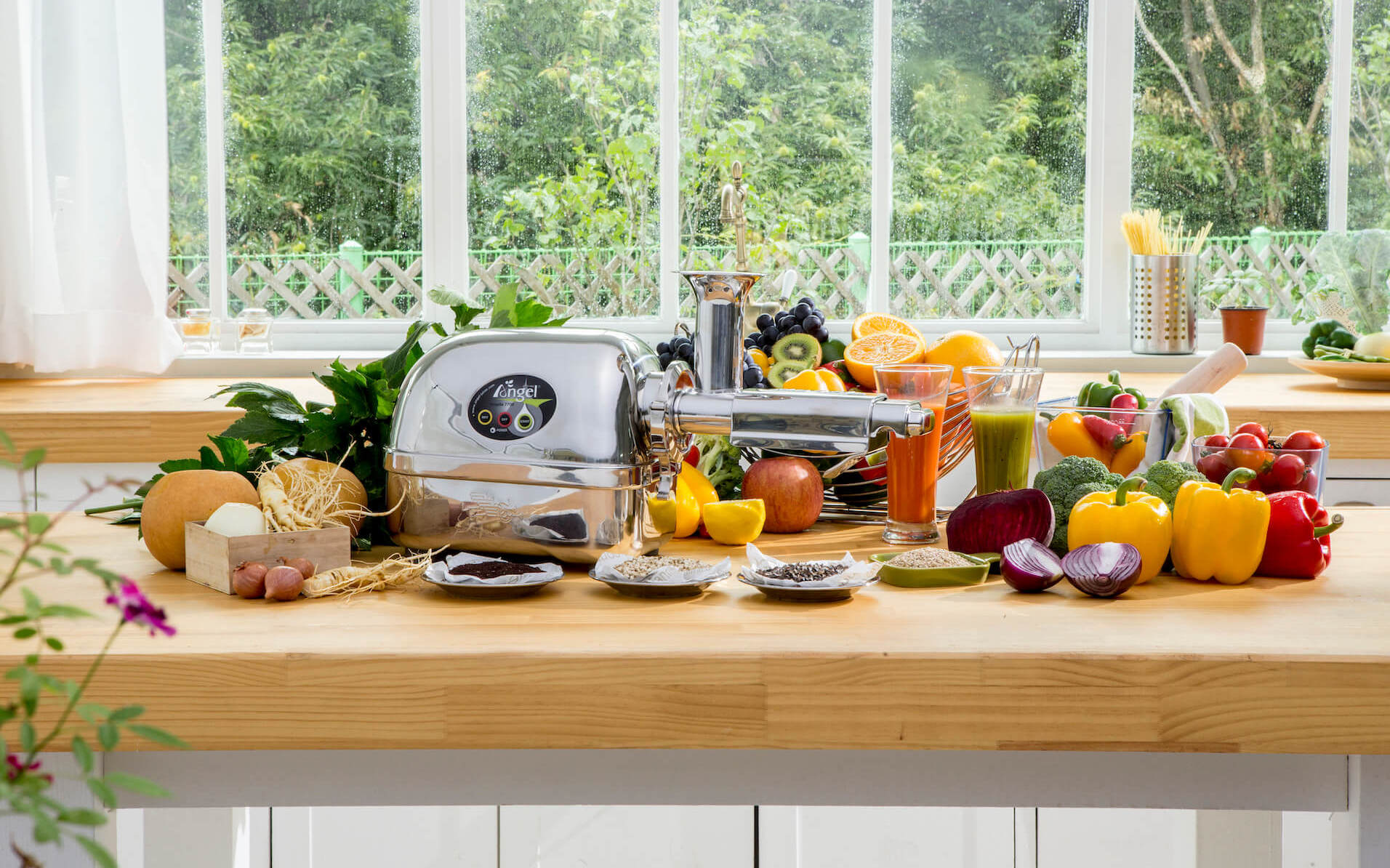 The Angel 8500s, is a clear winner in this category as it is made entirely from surgical stainless steel, which keeps bacteria to a minimum and If you're serious about juicing, this machine is worth the price tag. Sporting a 3 horsepower motor, this juicer earns its title as one of the most powerful juicers on the market. With slow, masticating twin gears, the 8500s can exert huge amounts of pressure onto ingredients, leaving pulp bone dry. The model is ideal for thick produce and low oxidation levels, meaning less foamy juices and an enzyme packed juice that can survive at least 24 hours in the fridge.
Best All-Rounder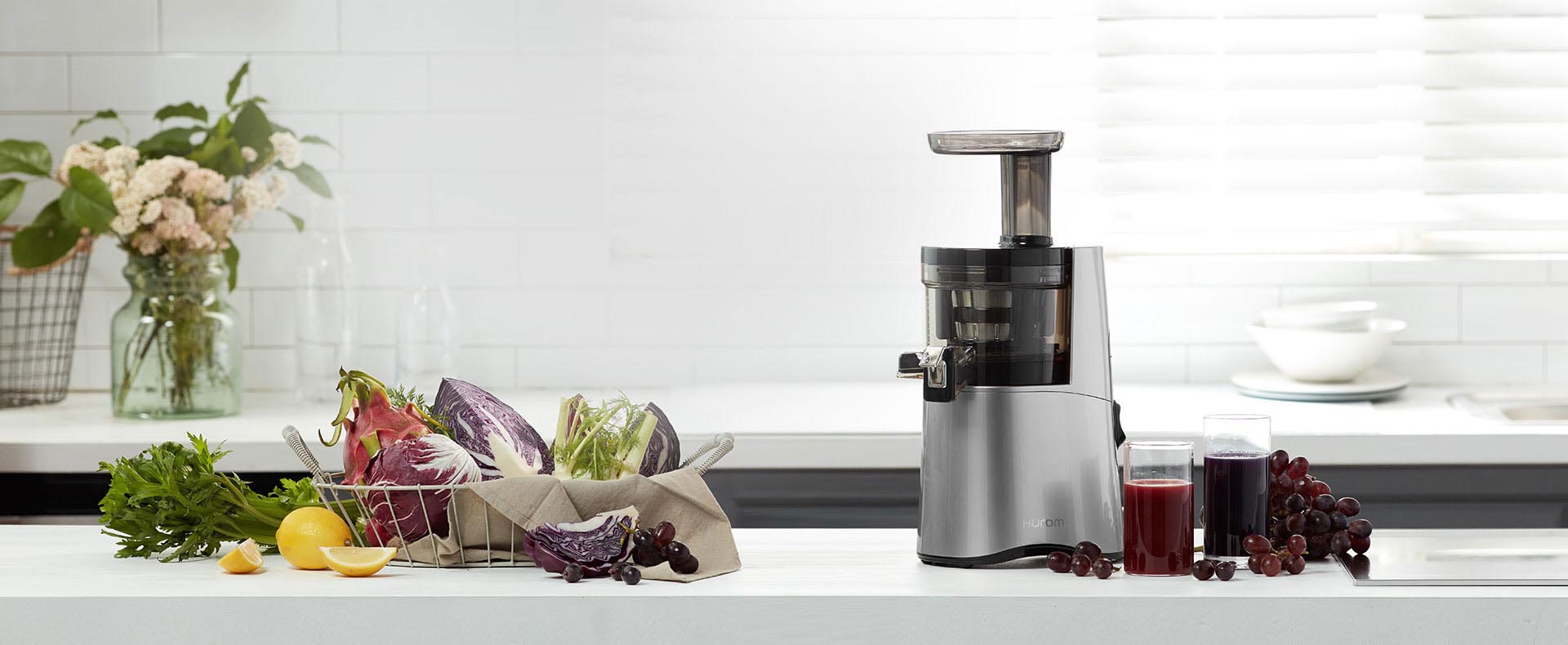 If you're looking for a juicer that ticks all of the boxes you should consider the Hurom H-AA. Available at a fantastic price, Huroms slow squeeze technology produces respectable yields for all ingredient types. The H-AA also comes with the sorbet and smoothie strainer which is ideal for a variety of food types. The H-AA has a Slow 43 RPM augur with a separate 17 RPM spinning brush rotation, which helps to extract as much juice as possible whilst preserving delicate enzymes and nutrients.
Best Juicer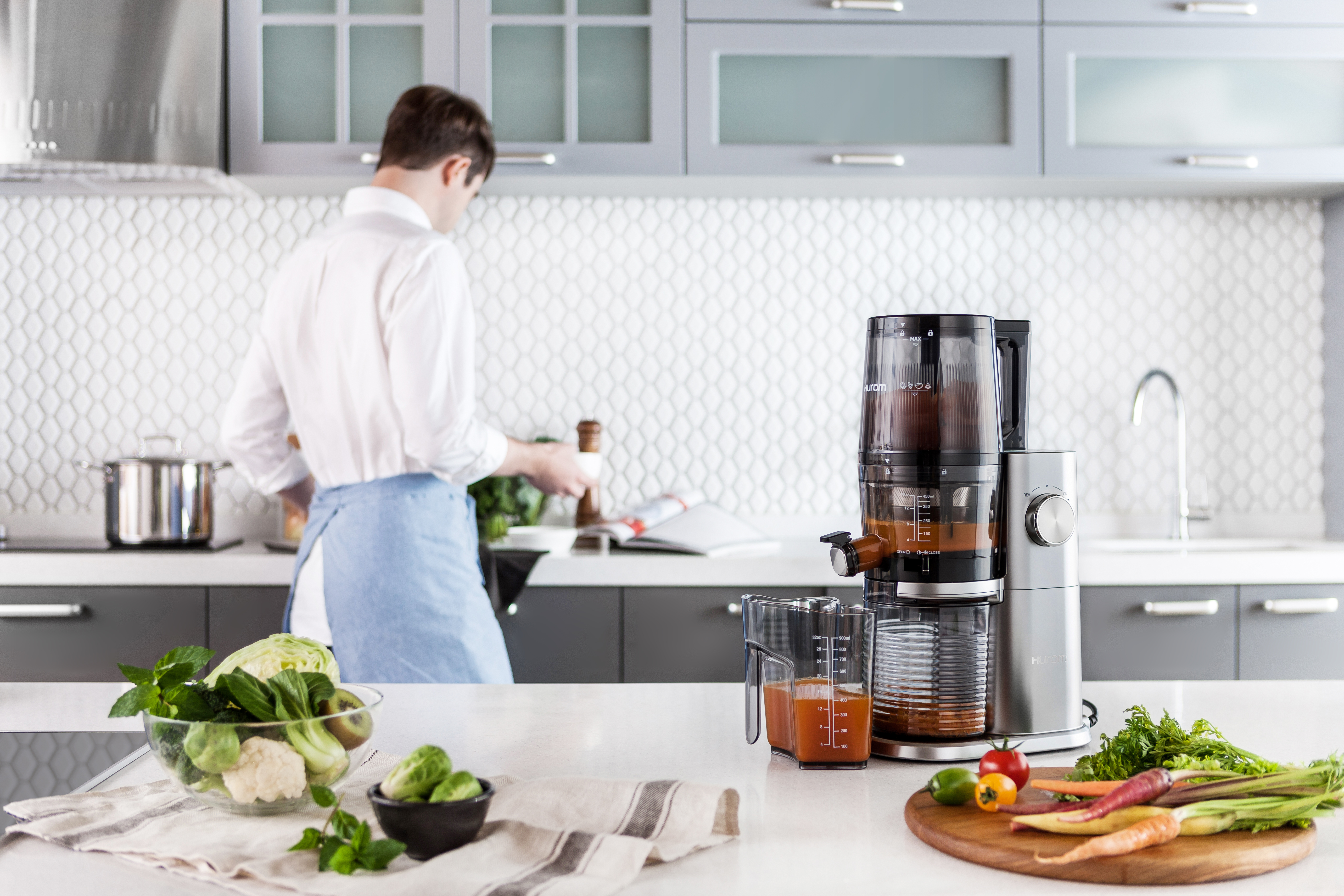 Now, while all of the juicers we've listed so far are fantastic, there is one that we feel is even better to take the title as the best juicer going into 2019. Probably the easiest juicer to use, the H-AI requires you to do very little work. Load the self-feeding hopper up with prepared ingredients, switch on and let the H-AI get to work. No more waiting for each ingredient to juice before you can add another ingredient, as there is an added mixing bar that rotates to separate ingredients. You won't have to worry about blockages either as the ingredients will be pushed down into the juicing chamber with no need of a juicing pusher. As a result the owner of a H-AI can leave it to work for a few minutes and come back to a fresh glass of juice ready and waiting for them.