Green Star Elite 5010 Twin Gear Juicer in Black
Green Star Elite 5010 Twin Gear Juicer in Black
Product Description
Green Star Elite 5010 Twin Gear Juicer
Green Star Juicers are made by the award-winning Tribest who have been adored globally by juicing devotees, raw food enthusiasts and leading nutritional therapists for more than a quarter of a century. The latest addition to the renowned range of twin gear juice extractors is the Green Star Elite GSE 5000 Twin Gear Masticating Juicer, which features a whole host of upgrades compared to the original juicing line from Green Star.
Famous for their innovation of integrating twin gears into juicing technology, Green Star have enhanced their latest appliance with the addition of much bigger twin gears which have an extra stage, three rather than just two, with an all-new mixing stage. The Gerson Institute are renowned for their work in both the preventing and healing of diseases naturally, and they have been one of the main inspirations for the Green Star range.
In the Elite GSE 5000 model, the pulp is mixed much more easily which allows the membranes to be penetrated more easily, allowing a greater volume of both juice and minerals to be removed. The juicer has also been made much easier to operate by GreenStar thanks to a reduction in the number of different parts which are also simpler to take apart, put back together and to clean. The body design of the Elite GSE 5000 has also been given a contemporary revamp which is attractive as well as being practical. For a price tag of less than £600, the GreenStar Elite GSE 5000 Twin Gear Masticating Juicer is without question one of the best buys on the market.
juicers.co.uk are proud to be an official retailer in the UK for Tribest and Green Star.
Green Star Elite GSE 5000's innovative 3 step juicing process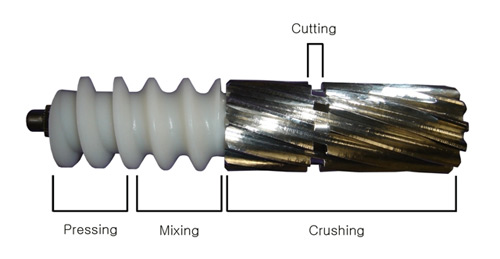 Product Overview
The three stages of the GreenStar Elite GSE 5000 Twin Gear Masticating Juicer are as follows:
Step 1 - with none of the harmful heat produced by centrifugal juicers, the first stage involves the cutting and crushing of the fruit and vegetables, slowly yet powerfully

Step 2 - the pulp is thoroughly mixed, allowing the membranes to be split open easily, allowing the extraction of vital minerals. This new mixing stage after the crushing but before the pressing allows far better processing of soft fruits

Step 3 - the produce is now pressed for maximum juice yield. The gears are shaped differently for pressing compared to mixing, forcing the fruit and vegetable produce towards the screen which divides the pulp and the juice. This strong action forces the juice through whilst maintaining its nutritional value and freshness.
These jumbo-sized twin gears are the longest on the juicing market and have the result of juicing the product for far longer than in any other appliance; this creates a far better juice yield. This mechanism is so effective that the GreenStar Elite GSE 5000 even outperforms all other GreenStar juicers on juice yield. This is no mean feat as GreenStar were already market leaders with their juicers producing the best juice yield available! The extent of the juice yield is clear to see from the pulp which is removed, being extremely dry by comparison to other juicers.
The GreenStar line also includes unique bio-magnets in the dual gears which pulls more minerals into the juice and enhancing the bioavailability. This means your body is far more able to absorb, process and utilise the minerals which have been dissolved on consumption.
Other key features
Some of the other new highlights of the GreenStar Elite GSE 5000 include:
A one step snap makes it easy to take apart and put together, a simple and all-new locking mechanism

Easy clean due to fewer parts on the revamped design, less than other juicers on the market

Dishwasher safe - all parts in the GreenStar Elite GSE 5000 are compatible with being cleaned in the dishwasher

Convenient handle for carrying allowing greater portability between storage and use in the kitchen

Light weight - all of the components used in the GreenStar Elite are lighter than previous machines
Parts for the Green Star Elite GSE 5000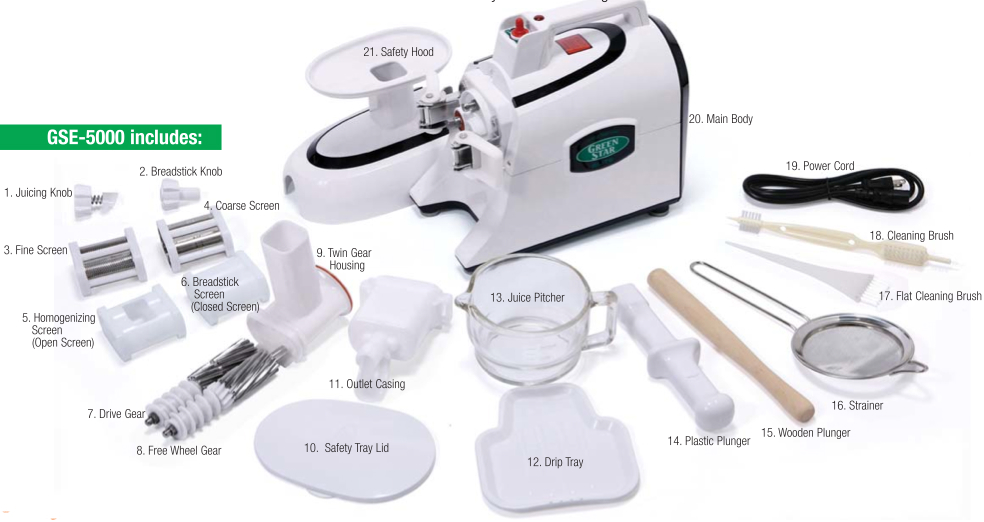 Technical Specifications
Inbuilt cord storage

Turning speed 110 RPM

Motor 190W

464mm x 175mm 318mm - w x h x d

Warranty - 5 years

30.5 lbs shipping weight

Tribest Corporation manufacture

White colour
Awards won by Green Star
The Canadian Health Food Association's 2007 Trade Show - Gold Award of Excellence for the equipment category

Equipment ALIVE Academy of Nutrition Awards - Gold Award of Excellence, October 2005

happyjuicer.com

Awards - Best Health Benefits Juicer 2004

Equipment ALIVE Academy of Nutrition Awards - Gold Award of Excellence September 2004

German Consumer Reports (Germany) - 1st place Stiftung Warentest, June 2003

Equipment ALIVE Academy of Nutrition Awards - Silver Award of Excellence, September 2002
The Green Power Gold model awards include:
ALIVE Academy of Nutrition Awards - Best Product Equipment and General Health, September 1996

New Products Exhibition Germany, Gold Prize October 1994

International New Technology Exhibition LA, US - Silver Prize September 1994

World Invention Contest Pittsburgh, US - Grand Prize, May 1994

World Invention Contest Pittsburgh, US - Grand Prize, May 1993
Product Reviews
Worth every penny - great queality

Posted by Izabela on 9th Oct 2018

I used to have other slow juicers both vertical and horizontal, but decided to get a twin gear one. Initially I was thinking about getting Omega Sana twin gear (new one) but hen a No. And I am very pleased with my choice. Green Star is pretty quiet in operation, the juices both from leafy veg to carrots etc come out really well. I have noticed a much higher yield comparing to previous centrifugal juicers I have used. The cleaning is not too bad and the cleaning gadgets are very useful. I went for the black colour as it matches my kitchen white top really well. I would recommend either Elite and Pro version and hope the machine will last longer then 5 years as per the warranty.

Quality piece of kit

Posted by Angela Roberts on 3rd Aug 2018

Juicers uk handled my order expertly. The Green Star Elite is an impressive machine, I am very happy with the product and the company.

Awesome Juicer

Posted by Unknown on 10th Feb 2017

I love this juicer, much drier pulp than my old centrifugal one.
Other Details
Root Veg/Hard Fruit Rating:
5